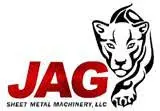 GMC & Jag
GMC is a full supplier of sheet metal fabricating machinery including plate rolls, sheet metal brakes, automated folder, shears and HVAC rollformers.

JAG Sheet Metal Machinery manufactures basic HVAC equipment for duct fabrication including seamers, flangers, TDC and TDF Rollformers, automated seam closers, corner insertion machines, sheet metal bending and folding equipment and more. Combining exceptional performance and quality with low "used machine" pricing, JAG Machinery's line of duct manufacturing equipment establishes a new level of value in the sheet metal industry.

GMC-Sheet Metal Folder | CNC Folding Machine
Our sheet metal folding machine has become extremely popular amongst the metalworking community. The manufacturing world has demanded more of this model than any other Sheet Metal Folder.
Jag Air Folder
A free standing general fabrication wrap brake.
The AIR FOLDER is ideal for forming and bending panels and other flanged metal parts.
Jag Roll Former
JAG quality construction with an industrial motor and gearbox; high precision bearings; heavy-duty three zone chassis; plate head construction; hardened and ground roll shafts all protected with JAG's top-quality primer and paint finish.
Jag Seam Closer
Eliminates hammering to close ductwork seams. Greatly reduces noise levels and speeds up duct seam closing in your shop or at the job site. Seam Closer also closes both insulated and reinforced ductwork. Seams from top and bottom to the middle to avoid run out and incomplete seaming.