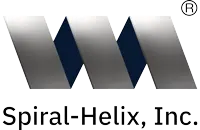 Spiral-Helix
Spiral-Helix, Inc. is the official US sales subsidiary of Spiro International SA, the undisputed world leader in the development and manufacture of machines to produce environmentally friendly air duct systems required in the heating, ventilation, air conditioning (HVAC) and sheet metal industry. Our identity as a Swiss quality brand stands for reliability, security, and trust.
We Buy and Sell Used Spiral Machines
Spiral-Helix Tooling
Levi forming heads are crafted through years of experience. All manufacturing is performed in-house which assures all of our quality and delivery standards are met.

Advantages of Levi Spiral Heads
CNC Precision Machined Surfaces

Bronze or Teflon Lined Heads

Triple Rib or Standard Available

Standard, Metric and Custom Sizes
Over 4 Thousand Heads in Service
Trade in Programs
We Sell Used Spiral Machines
We Buy Used Spiral Machines
If requested, we can incorporate replaceable liners on the forming surfaces to reduce friction, thus eliminating wear, and the amount of lubrication needed. This simply makes for a cleaner operation and does not mark the outside of the pipe. We fabricate, repair, and also modify existing heads of any brand to accept our lining.
Stitchwelder PRO
The latest edition of our market leading welding solution, equipped with a brand new state of the art control system, improved control of the welding process, easy and fast setup, latest generation of mercury free welding rollers with extended lifetime. The Stitchwelder PRO 2.0 is designed to give a perfect air-tight seam thru out the whole welding length. It has built its world class reputation upon well documented consistency and reliability.
Spiral-Helix Gorelocker
High production Gorelocker ™ produce standing lockseam elbows and reducers. The high flexibility is achieved by means of 2 separate workstations: a flanging station and seam closing station. Thus the machine is always ready for operation without time-consuming conversion. The standing seam reduces welding to just one longitudinal seam and improves rigidity.
Spiral-Helix Tubeformer
The Spiral-Helix Tubeformer has been widely recognized in the HVAC and sheet metal industry as the spiral duct machine with outstanding quality, reliability, and performance-driven approach.
Spiral-Helix Ovalizer
The Ovalizer transforms smooth and corrugated round spiral ducts into flat-oval ducts. Machine control is by PLC and the Ovalizer is equipped with superior hydraulic unit to ensure the required force.